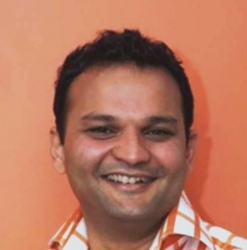 Tooth implant dentist Buckingham, Buckinghamshire
Dr Selvaraj Balaji
BDS MFDSRCPS (Gla) MFDSRCS (Ed) LDSRCS (Eng)
Dr Selvaraj Balaji is skilled in implantology as well as sinus and bone grafting.  His skills have been developed through rigorous and extensive training.  Selvaraj is committed to training and has attended courses worldwide.  Dr Balaji is currently enroled on the Diploma in Restorative Dentistry with the Royal College of Surgeons (England).
Patient consultations
Patients just beginning to think about dental implant treatment may find it helpful to attend a complimentary preliminary consultation with Dr Balaji the implant dentist.  This appointment does not include a clinical examination and it only takes 15 minutes.  The discussion will help you consider the options for treating your dental problems and decide whether to proceed to a clinical consultation for implants.  The preliminary consultation is free of charge for visitors enquiring through this website.  Please use the button in the right hand column to request an appointment.
Once you have decided in principle that you want implant treatment, the next step is a clinical consultation.  This includes a comprehensive oral examination, and results in the production of a fully-costed individual plan for your treatment.  The fee for the clinical assessment appointment and provision of your personal treatment plan is £100 plus X-rays/CT scans.  The cost of the treatment planning consultation is refunded when you proceed with the treatment.
Main implant treatments and procedures offered
 Single implants
 Multiple implants
 Soft tissue grafting
 Sinus grafting
 Bone grafting
Patient testimonials
"Several months have passed since my dental implant treatment was completed, they have been joyous months. I am now able to crunch my way into apple, steak and crust with a pleasure long forgotten."
"My new teeth have changed my life. I can now eat anything and am able to enjoy a nice steak, something I haven't been able to do for years. It's also been good for my general confidence, as I no longer have to hide my teeth when I smile.  If you're thinking about having dental implants, I have no hesitation in recommending Dr Balaji for his excellent treatment."
Additional information
The Gallery Dental & Implant Centre offers endodontic and orthodontic treatment, cosmetic dentistry and hygienist services as well as skilled sedation techniques.  Nervous patients are welcomed.   The practice also offers an interest free credit payment option.
Implant case referral policies, procedures and administration
Referrals are accepted from general dental practitioners for all types of dental implant treatment.  Self referrals are also welcome.