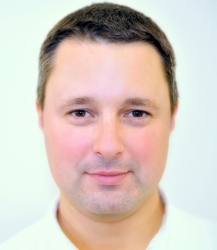 Tooth implant dentist , Westminster, London
Dr Koray Feran
BDS MSc FDS RCS
Dr Koray Feran has been an implant and restorative dental surgeon since 1992 and has placed over 3,300 implants.  He has experience of extensive cases, multidisciplinary planning and case co-ordination. Koray lectures in the UK and Europe teaching implant dentistry skills to dental surgeons.  He is a past president of the British Academy of Aesthetic Dentistry and tutor and author for the Association of Dental Implantology (UK) ARK e-learning modules on treatment planning. 
Patient consultations
Patients just beginning to think about dental implant treatment may find it helpful to attend a complementary preliminary discussion with our patient co-ordinator Jessica Girvan LCIAD. (This appointment does not include a clinical examination) and takes 20-30 minutes. The discussion will help you consider the options for treating your dental problems and decide whether to proceed to a clinical consultation for implants. This preliminary discussion is free of charge for visitors enquiring through this website. Please use the button in the right hand column to request an appointment.

Once you have decided in principle that you want implant treatment, the next step is a clinical consultation. This includes a comprehensive oral examination and a staged plan and estimate for you to consider. The fee for the clinical assessment appointment including-X-rays and provision of your preliminary plan is £250. However you should be aware that a full case assessment with lab planning and CT scanning to be able to definitively plan and cost a treatment plan in detail may incur investigative fees of £500-£2,500 depending on complexity.
Main implant treatments and procedures offered
Full case planning and lab support
CT scanning and SimPlant analysis
Bone grafting (block, sinus and particulate)
Soft tissue grafting
Implant placement with guided surgery as required
Provisionalisation
Final prosthetics 
Rescue of failures and case revision including surgical and prosthetic aspects for treatment that has been unsuccessful elsewhere
Patient testimonials
"I arrived at Koray's a dental disaster and finished my treatment with a full set of shiny, white teeth, healthy gums and a beaming smile. The implants and crowns are indistinguishable from my natural teeth. I can't speak highly enough of Koray and would have no hesitation in recommending him."
"I wonder if you realise how much of a special person you are Koray in this world of dentistry.  As you know I have met & visited many so called professionals & none of them can hold a candle to you!"
Additional information
Other clinicians also carrying out implant surgery at LCIAD:
Dr Isabella Rocchietta
Dr Orestis Angeletos-Paparizos
Dr Rouba Sbano
Implant case referral policies, procedures and administration
Practitioners are invited to attend any stage of the consultation and treatment process, and Dr Feran provides free mentoring as a 'thank you' gesture.
Long-term support and maintenance is provided for all implants and restorative work, and Dr Feran's team ensures that practitioners receive regular updates on treatment and subsequent aftercare.
Patients can be referred using the case referral form on this website or via the practice website form with provision for radiographic and photographic attachments at www.lciad.co.uk/Referrals. Alternatively email info@lciad.co.uk or call 020 7323 3041 and we will do the rest.