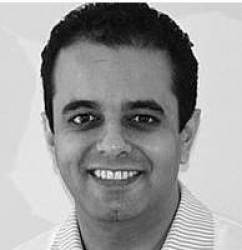 Tooth implant dentist Staines, Middlesex
Dr Anmol Chander
BDS (Hons) MFDSRCS Eng) DipImpDent RCS (Eng) GDC No 79746
Dr Anmol Chander gained experience in Oral and Maxillofacial surgery whilst working as a Senior House Officer at Guy's Hospital. In 2003 he was awarded membership of the Royal College of Surgeons of England and completed the Diploma in Implant Dentistry with advanced certification in 2009.  Anmol is keen to help nervous patients through dental treatment and is fully trained to provide intravenous sedation. Dr Chander is a member of the Association of Dental Implantology (UK), the Society for the Advancement of Anaesthesia in Dentistry, and the British Academy of Aesthetic Dentistry.  He is also a recognised ADI mentor. Anmol graduated from Guy's, King's and St Thomas' Hospitals in 2001.
Patient consultations
Patients just beginning to think about dental implant treatment may find it helpful to attend a complimentary preliminary consultation with Dr Anmol Chander, the implant dentist.  This appointment does not include a clinical examination and it only takes 15 minutes.  The discussion will help you consider the options for treating your dental problems and decide whether to proceed to a clinical consultation for implants.  The preliminary consultation is free of charge for visitors enquiring through this website.  Please use the button in the right hand column to request an appointment.
Once you have decided in principle that you want implant treatment, the next step is a clinical consultation.  This includes a comprehensive oral examination, and results in the production of a fully-costed individual plan for your treatment.  The fee for the clinical assessment appointment and provision of your personal treatment plan is £150 including X-rays/CT scans.  The cost of the treatment planning consultation is refunded when you proceed with the treatment.
Main implant treatments and procedures offered
Surgical and restorative implant dentistry

Sinus lifts

Autogenous block bone grafting

Immediate loading/teeth in a day

Computer guided surgery

Full mouth rehabilitation

Denture stabilisation
Patient testimonials
"After many years of extensive dental work I was recommended for implants. When I went to see Anmol I immediately felt reassured. At every step I was consulted, offered amazingly good service with minimal pain and for the first time in my life I actually looked forward to going to the dentist. The outcome has been amazing. My smile is totally natural and my confidence is sky high."
"I was told that the treatment I was considering was life changing, and it is true. I now feel good about myself, far more self-assured and am no longer embarrassed to smile. Thanks to Anmol's expertise the results have exceeded my expectations."
Additional information
The centre has on-site CT scanning facilities and provides intravenous sedation for nervous and phobic patients.  An orthodontist, periodontist and endodontist complement the multidisciplinary team.
Implant case referral policies, procedures and administration
Referrals are accepted from general dental practitioners for all types of dental implant treatment.  Patients are treated only for the clinical situation for which they have been referred.   Unless informed otherwise it is assumed that referrals for dental implant treatment is for complete treatment. Dr Chander is happy to mentor in restorative implant procedures. Referring practitioners are actively encouraged to take part in the restorative element of implantology.