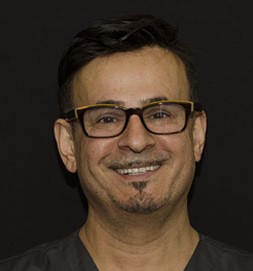 Tooth implant dentist Bexleyheath, Kent
Dr Hussein Shaffie
DDS
Dr Hussein Shaffie is the principal and owner of Bexleyheath Dental Practice and his primary interests are implants, cosmetic dentistry and giving his patients back their smile. Hussein works alongside Dr Katarzyna Krol, placing implants in cases of varying complexity. Hussein has undertaken several qualifications and many courses enabling him to manage complex cases. He is currently undergoing a Diploma in Implant Dentistry at The Royal College. He keeps up to date with all the latest technology and postgraduate courses, both nationally and internationally.  Hussein qualified in Sweden and came to practice in the United Kingdom in 1998.  He began his career as an associate and became a trusted member of the team, later becoming the Principal of his first practice.
Patient consultations
Patients just beginning to think about dental implant treatment may find it helpful to attend a complimentary preliminary consultation with Dr Schaffie/Implant Coordinator.  This appointment does not include a clinical examination and it only takes 15 minutes.  The discussion will help you consider the options for treating your dental problems and decide whether to proceed to a clinical consultation for implants.  The preliminary consultation is free of charge for visitors enquiring through this website.  Please use the button in the right hand column to request an appointment.
Once you have decided in principle that you want implant treatment, the next step is a clinical consultation.  This includes a comprehensive oral examination, and results in production of a fully-costed individual plan for your treatment.  The fee for the clinical assessment appointment and provision of your personal treatment plan is £50 including X-rays.  The cost of the treatment planning consultation is refunded when you proceed with the treatment.
For further information contact Sarah Persechino the Treatment Co-ordinator on 020 8303 7051.
Main implant treatments and procedures offered
Dental implants
Sinus lift
Soft tissue grafting
Bone augmentation
Surgical extractions
Facial rejuvenation
Laser treatment
IV sedation
Patient videos
Patient testimonials
"The treatment I have received at Bexleyheath Dental Practice has been absolutely fantastic. The staff are very reassuring and kind, they always go out of their way to put you at ease. The atmosphere in the surgery is relaxing and calm. We would highly recommend the practice to anybody."
Additional information
Both Dr Hussein and Dr Krol are members of the BDA, FGDP & ITI.  Katarzyna is also undergoing a Diploma at The Royal College, She has completed courses in implantology in Sweden, Germany, England and Poland. She also has a doctorate in periodontology and is involved in lecturing abroad.
The practice offers diagnosis and treatment for a range of problems including: replacement of missing teeth with implants, bridge or removable dentures, endodontics, complex cosmetic problems in a warm friendly environment. We also offer IV sedation for anxious or nervous patients.
Implant case referral policies, procedures and administration
Once the initial consultation has taken place withour experienced implant co-ordinator and the patient is happy to proceed to the next stage, an appointment is made to see Dr Shaffie.
A complete assessment and appointments are made at the patient's convenience.
 A well-planned and informative treatment plan, including orthopantomogram, x-rays is drawn up for the patient.