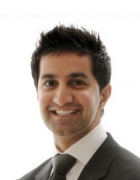 Tooth implant dentist Gravesend, Kent
Dr Rik Trivedi
BDS (Lond) DipImpDent RCS (Eng)
Dr Rik Trivedi has been placing dental implants for over ten years and has attended numerous advanced dental courses both in the UK and abroad. Rik has completed the year course in Dental Implantology at The Harley Street Centre for Implant and Reconstructive Dentistry and has attained the Diploma in Implant Dentistry at the Royal College of Surgeons. He is a member of the Association of Dental Implantology and the British and American Academy of Cosmetic Dentistry.
Patient consultations
We offer a free consultation appointment to discuss options and suitability and a practice tour and viewing of our comprehensive implant portfolio.
We offer a comprehensive dental and implant examination at an investment of £45 + £10 per X-ray. We have a brand new state-of-the-art dental practice with implant facilities just opened and have an in-house CT scanner for full implant planning.
CT scans start from £99.
Main implant treatments and procedures offered
Immediate implant placement –single tooth to multiple teeth/full arch cases placement only/with restoration 
Bone grafting 
Sinus augmentation/lift procedures 
Full arch implant placement only/and restorative work 
Dentist referrals for all surgical treatments only or with restorative work included (training for new dentists available) 
New dentist training evenings and observation days available 
IV sedation available
Patient videos
Additional information
Our philosophy is for our patients to achieve optimum health, look good and feel great about their teeth and smiles. We strive to provide our services in an environment of luxury and state-of-the-art technology based on a relationship of long-term trust and friendship.
Implant case referral policies, procedures and administration
Referrals can be made by:
Phone (Preferable)
Fax 
Completion of the online website referral form (Preferable) 
Letter 
Email (Preferable)