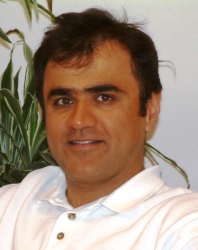 Tooth implant dentist , Hornchurch, Essex
Dr Sanjay Chopra
BDS (Lond) FDSRCS (Eng) DipImpDent RCS Eng Specialist in Oral Surgery
Dr Sanjay Chopra is an experienced oral surgeon with a special interest in implant dentistry.  Sanjay was awarded the Diploma in Implant Dentistry by the Royal College of Surgeons Faculty of General Dental Practitioners in 2004 and also holds the Advanced Certificate in Implant Dentistry.   He is a tutor, lecturer and examiner for the Royal College of Surgeons and an examiner at the Royal College of Surgeons Edinburgh.   Sanjay is also an experienced  sedationist and lectures widely on implant dentistry, oral surgery and sedation.  Dr Chopra qualified in 1990.
Patient consultations
Patients just beginning to think about dental implant treatment may find it helpful to attend a complimentary preliminary consultation with Dr Chopra.  This appointment does not include a clinical examination and it only takes 15 minutes.  The discussion will help you consider the options for treating your dental problems and decide whether to proceed to a clinical consultation for implants.  The preliminary consultation is free of charge for visitors enquiring through this website.  Please use the button in the right hand column to request an appointment.
Once, following the complimentary non-clinical consultation, you decide in principle that you want implant treatment, the next step is to arrange an appointment for a clinical consultation.  This includes a comprehensive oral examination, and results in production of a fully-costed individual plan for your treatment.  The fee for the clinical assessment appointment and provision of your personal treatment plan is £80 for up to 30 minutes including X-rays. If a CT scan is required the normal charge for this is from £150.
Main implant treatments and procedures offered
Surgical and restorative
Single teeth
Multiple units
Full arch cases
Autogenous bone grafting
Guided bone regeneration and sinus lifts
Immediate loading where appropriate
Low dose cone beam CT scanning
Patient videos
Patient testimonials
"I now have my four top front teeth but most of all I have my smile and my confidence back."
"I am highly delighted with my new sets of implant dentures and now I can eat and smile as normal with confidence and as a further bonus have been told it also makes me look younger what more can you ask for? To me it is a life changing experience."
"Having had dentures for a number of years I was recommended to Sanjay Chopra for dental implants. After consultation I had five implants. I wish I had opted for this treatment years ago as the implants are marvellous and feel just like my own teeth."
"I started treatment with Dr Chopra a year ago and am absolutely delighted with the results. I do not begrudge a single penny spent on the implants. I have benefitted enormously. I am more confident when meeting people both socially and professionally. I now enjoy smiling."
Additional information
Highland Dental provides endodontic, periodontic and orthodontic services as well as intravenous sedation.
Dr Chopra is a GDC registered specialist  oral surgeon.   He also practices at the Leigh-on-Sea clinic.
Dr Philip Hayter BDS LDSRCS  Eng DipImpDent RCS Eng Specialist in Oral Surgery, Partner, Highland View Dental Surgery, Leigh-on-Sea.
 
Implant case referral policies, procedures and administration
Referrals are accepted for complete treatment or surgical treatment only, allowing the GDP to restore. Full support is available to those dentists who want to be involved with the restorative treatment.
The practice team mentors dental surgeons who wish to know more about implant dentistry, offering one-to-one or small group training and live surgery.