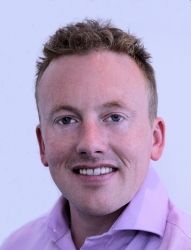 Tooth implant dentist Worthing, West Sussex
Dr Ross Drybrough
BDS MFGDP(UK) DipImpDent RCS (Eng)
Dr Ross Drybrough has been Course Tutor for the Faculty of General Dental Practitioners Implant Diploma programme, which he completed himself in February 2006. This qualification is recognised to be at the pinnacle of formal postgraduate dental implant training in the UK.  Ross became interested in implantology in 1999 and undertook all the appropriate training before introducing complex implant therapies to his practice. 
In April 2006, Ross opened Worthing Implant Centre referral practice, and only treats patients who require dental implant therapies. These patients come from referrals by previous patients, as well as recommendations by other dental surgeons.
Ross has now placed thousands of implants for his patients and some have been fellow dentists and their family members.
Dr Drybrough takes great pride and professional satisfaction from providing outstanding clinical results at the end of treatment.
Patient consultations
Patients just beginning to think about dental implant treatment may find it helpful to attend a complimentary preliminary consultation with Dr Drybrough. This appointment does not include a clinical examination and it only takes 15 minutes.  The discussion will help you consider the options for treating your dental problems and decide whether to proceed to a clinical consultation for implants.  The preliminary consultation is free of charge for visitors enquiring through this website.  Please use the button in the right hand column to request an appointment.
Once you have decided in principle that you want implant treatment, the next step is a clinical consultation.  This includes a comprehensive oral examination, and results in production of a fully-costed individual plan for your treatment.  If the patient has an assessment undertaken and a written treatment plan , the fee is waived if they have an implant placed. Otherwise there is £245 fee for the report, if treatment is declined.
We offer a 5 year no quibble warranty on any post-op complications.
Main implant treatments and procedures offered
Emphasis on aesthetic implant dentistry
Individual dental implants and crown to replace a tooth
Single and multiple implant placements, with and without intravenous sedation
Sinus grafting and sinus floor manipulation
Block bone grafts from intra-oral donor sites
CT scan (if needed)
Patient testimonials
"I am so pleased with my implant and would like to thank you for the excellent treatment I received. Not at any time did I feel uncomfortable or in any pain. I was made to feel relaxed and was reassured throughout. I would also like to thank all the staff for the extreme care I received during the procedure. The treatment has been worth every penny and I would recommend it to anybody."
"I am writing to express my appreciation of the service I received from the initial appointment to the final day when I emerged from Worthing Implant Centre with a smile to be proud of. What you said in your literature was true, you recreated a confident smile, and I can honestly say the whole treatment was virtually pain free."
Additional information
The Worthing Implant Centre has a highly trained team of dedicated professionals who pay a great deal of attention to care and management of patients. Its nine treatment rooms are all recently equipped with state-of-the-art technology and every facility that modern dentistry has to offer.
Implant case referral policies, procedures and administration
Patients and referring general dental practitioners are welcome to make an appointment to drop in to meet the team.
General dental practitioners are encouraged to undertake the restoration phase of the implant treatment for their own patients in straightforward referred cases.  FREE training in the restoration of simple dental implant cases is available.  To enquire about starting to restore dental implant cases for your patients, please contact the practice.