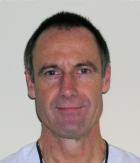 Tooth implant dentist Hove, East Sussex
Dr Barry Tibbott
BDS MSc (implantology) LDS RCS
Barry Tibbott is a clinical lecturer and tutor for the MSc Implant Course at Warwick University Medical School. His experience in complex case management has been achieved through continuous study both in the UK and abroad. He has completed a Masters Programme in Implantology gaining a distinction. He established his private practice in Hove in 1986 and provides expertise in dealing with all aspects of implantology. Barry is a member of the Association of Dental Implantology, the British Society of Osseointegration and is a Fellow of the Royal Society of Medicine. He qualified from the Royal Dental Hospital in 1977.
Patient consultations
Patients just beginning to think about dental implant treatment may find it helpful to attend a complimentary preliminary consultation with Dr Tibbott. This appointment does not include a clinical examination and it only takes 15 minutes. The discussion will help you consider the options for treating your dental problems and decide whether to proceed to a clinical consultation for implants. The preliminary consultation is free of charge for visitors enquiring through this website. Please use the button in the right hand column to request an appointment.
Once you have decided in principle that you want implant treatment, the next step is a clinical consultation. This includes a comprehensive oral examination, and results in production of a fully-costed individual plan for your treatment. The fee for the clinical assessment appointment and provision of your personal treatment plan is £120, including X-rays/CT scans. The cost of the treatment planning consultation is refunded when you proceed with the treatment.
Main implant treatments and procedures offered
Bone Grafting
Sinus augmentation
Ridge dilation
Single implant placement to
Full arch reconstruction
Implant supported over-dentures
Additional information
Advanced restorative dentistry
Preventative dentistry
Implant case referral policies, procedures and administration
Initial consultation with radiographs, study models taken and discussion with patient.  Full treatment plan with timing, stages of treatment, costs, after-care and follow-up appointments. The patient is then returned to the referring dentist.